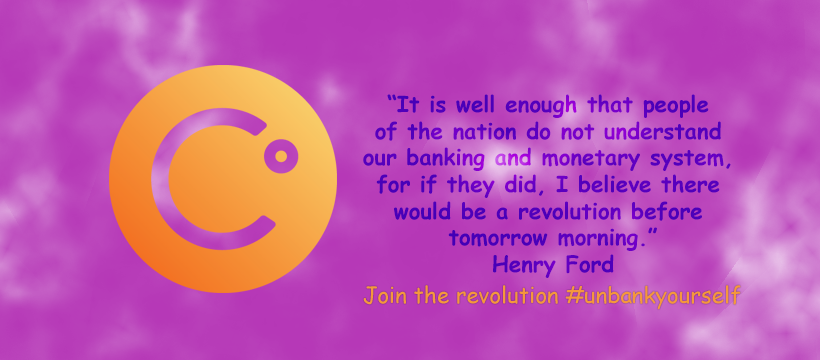 There are multiple ways to passively earn in the digital asset space. This page offers some education on just a few of the many options available.
Celsius
There are a few companies now offering you a yield on your holdings. Make sure you thoroughly investigate any company before trusting them with you coins. Nexo, BlockFi, and Crypto.com are some that you are most likely to see advertising from.
Some reasons Celsius stands out from the competition:
Up to 80% of the revenue is distributed weekly to the depositors.
They won't pay to be listed on an exchange (more money for you).
They don't do mass advertising (more money for you).
Celsius is run by Alex Mashinsky. He gave us free online calls with VoIP, now he gives you MoIP.
Alex is on youtube, clubhouse and iHeart weekly.
Multiple major exchanges have listed the Cel token in 2020.
You don't need to touch the Cel token to earn yield or take a loan with Celsius.
The yield they offer in a month can be more than your banks gives you in a year.
Collateralized loans from 1%, and liquidations aren't automatic.
They are growing rapidly both in user growth and assets under management.
If you want to learn more about what they offer they have a great help centre with most of your questions already pre answered. Check their current rates on their site or download their app from your app store. At the time of writing this if you sign up using my code 172371333f you can get $40 BTC (after 30 days) with a deposit of $400 USD or more (about $600 AUD). Send me a message on twitter if you want to check if they have any current special promotions running.
Earning Yield on an Exchange
Ftx are just one of the many exchanges now allowing you to earn yield with them. The rates can be widely volatile based on supply and demand from under 1% to over 100%. Their rate changes every hour.
Binance also offer various opportunities to earn yield.
Liquid allows you to earn on your digital assets on their exchange thanks to an integration with Celsius.
Things to check with any exchange:
Advertised rate.
How often the rate changes.
How long are your funds locked up for.
Are there deposit or withdrawal costs for the yield platform.
Copying Other Traders.
Other sites are offering this service now though one of the oldest in the space is eToro.
eToro is a global market place for people to trade cryptocurrencies, forex, commodities, indices, stocks and etf's online in a simple, transparent and enjoyable way.
They empower over 20 million users (only about 10% have funded accounts) in more than 140 countries worldwide to manage their funds through their innovative online investment platforms and active trading community.
You can copy other traders (check their individual minimum copy recommendations) and passively see your account grow as theirs does, just remember they are human and could lose money too so do your research. You can check traders current portfolio as well as trading history if their profiles are public, (you can keep everything private).
You can also copy a copy fund (minimum $5,000USD) they are designed to act just like a fund manager, with some copy funds showing double digit returns.
If you know what you are doing place manual trades. Perform well enough and you could soon see yourself being copied.
And then there is the social aspect allowing you to publicly discuss the different markets and your thoughts with other traders. They can limit your trading due to their perception of market conditions so be aware of that.
Staking
Though POS (Proof of Stake) by holding some coins and staking them you can earn a reward. All coins have a different reward rate and some wallets for staking are easier to set up than others. Once you learn how to, you'll be able to teach others as we see this space grow. Keep your private keys safe and secure.
Mining
Another way to earn passively is through mining. You could shell out millions setting up your own mining farm and the ongoing costs to run it or you could join one already in operation. There are lots to choose from all with different risk to reward metrics. Make sure you do your research. As this space is always evolving if you'd like to learn more about some of the options I've researched contact me so I can help further educate you about mining.
Yield Farming
Yield Farming grew rapidly in 2020. There are multiple opportunities for yield farming and you need to thouroughly research each one before depositing your funds.
Things to check:
How stable/volatile are their rates.
Is their a lock up period on your funds.
Are their deposit and/or withdrawal fees.
Could your potential profit be turned into a loss due to gas fees.
In Conclusion
There are lots of platforms offering returns on your money. Over the years we have seen lots of these fail. I cannot express any more clearly than this DO NOT RISK WHAT YOU CAN'T AFFORD TO LOSE. I've heard too many stories of people gambling their life savings due to the advertised returns or worse still taking out loans. Nothing in this space is guaranteed. Although bitcoin has now been around for over 10 years we are still in the early stages of adoption and regulation. As this space is always evolving if you'd like to learn more about some of the options I've researched contact me so I can help further educate you about platforms.
* Cryptocurrencies are a new asset class. Due to their new nature they are volatile. Don't be greedy.
* All trading involves risk. Only risk capital you're prepared to lose.
* Past performance does not guarantee future results.
* The content of this page is intended for educational purposes only, and shouldn't be considered investment advice.