This space is growing so quickly it would be easy to forget that when this site was set up 1 Bitcoin was trading for $3579 on 17th June 2017.
The original analogy was given that buying Bitcoin is similar to buying foreign currency before going on an overseas holiday.
In some ways the analogy still applies. When choosing the exchange you want to use here is a quick list to check.
the deposit fees
transaction fees
spread between buy and sell price
withdrawal fees
how long the company has been in business
what industry affiliations they have
do they have a good reputation
There are multiple exchanges to choose from. The choice is yours, the below list should fast track your research. You will probably need to give them similar information as if you were setting up a bank account due to government regulations, ie government issued ID to prove who you are. You'll need to use a bank account in the same name you register your account as. If you have a joint bank account you may want to set up your exchange account under both names or set up a bank account with just your name before registering.
Some of the more popular exchanges in Australia include:
Independent Reserve: Give you the option to set up a Personal, Company or Superfund Account. You can also set up an auto buy option for new deposits. Website only, no app.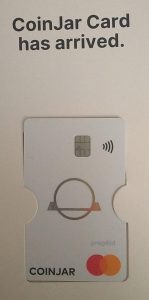 Btc.com.au: Also offer a crypto debit card.
Coinspot.com.au: Have an easy to use interface and multiple options to buy various baskets of currencies in a single transaction. Website and app. Signup with this link for $10AUD of Bitcoin with your first deposit.
Binance quickly became a household name in the crypto world, and now have localised subsidiaries around the globe.
Localbitcoins.com: Offers multiple options for in person transactions. (Use at your own risk)
or try https://coinatmradar.com
The choice is yours.
*all bonus/promo offers valid at time of typing.
Which ever you use make sure they are reputable and don't risk leaving more on any of them than you are comfortable with, everything else store your digital assets long term in a desktop or cold storage wallet.
* All trading involves risk. Only risk capital you're prepared to lose
* Past performance does not guarantee future results.
* The content of this page is intended for educational purposes only, and shouldn't be considered investment advice