I apologise I haven't been blogging more frequently,. If you are on twitter and aren't following me please do so I'm posting on there most days. Lets catch up on some of the most relevant recent headlines. I woke this morning to some massive moves in the markets and the news from Paypal is probably the most likely culprit.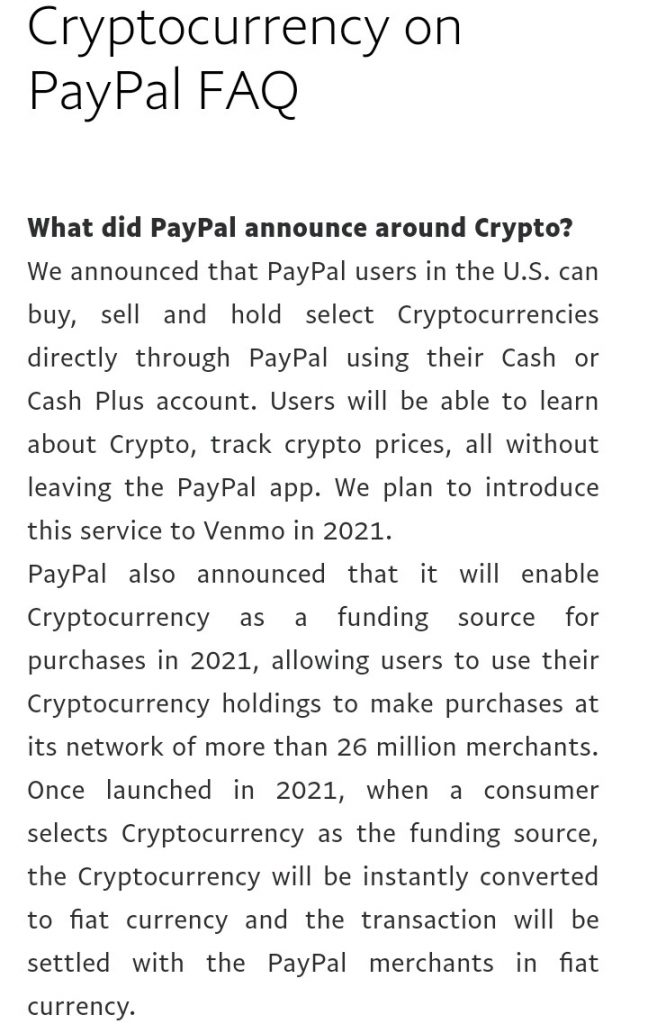 More details on the announcement can be found here.
It's not full adoption by them but it is a step in the right direction. Exposing not only their merchants to crypto but also their customers is big news.

There's been so much big news recently. MicroStrategy converting their cash reserves to bitcoin has been one the biggest news stories leading up to this PayPal announcement.
This image from a recent CoinTelegraph article shows how many publicly listed companies have announced they are now holding Bitcoin.
The Microstrategy news wasn't just big due to the size of how much they bought or how much or their cash reserves they used to acquire it. It was big news because it's going to have a lot of other board rooms of other companies now looking at diversifying a portion of their portfolio into Bitcoin. Factoring the current market cap of Bitcoin against the current cash sitting on company balance sheets it's going to be an interesting 2021.
Michael Saylor has been very open about why and how MicroStrategy took this action. This is just one of the many interviews he has done in recent weeks.
If you've ever asked why Bitcoin? Or, is Bitcoin for me? Hopefully that interview or any of the others he has done in recent weeks helps you understand the revolution that is currently transpiring.
This recent report from CoinShares gives some startling insights into what a small expousure to Bitcoin can have to a traditional investment portfolio. I urge you to invest in yourself enough to read it. If you decide it's not for you at least you've made a more informed decision.
I still share this playlist for anyone still trying to understand how the current financial system actually works.
Once I learned the truth about our current system I could more easily see the reason a new system was being created.
Part of that new system is giving back to the community what the senior management, shareholders or venture capitalists would normally get.
I remember interest rates that high on savings accounts in the 90's. The banks could still be giving them to you now but their business model profits them not you. While some crypto companies offer some return on any deposits you trust them with I'm yet to find one that is giving 80% of their revenue to their community. The more I learn about Celsius the more I am encouraged about the future of this space.
Next time you do a voice or video call online thank Alex Mashinsky for that. You might never heard his name before but making VOIP (Voice Over Internet Protocol) possible is just one of his achievements that have changed your life. His new company Celsius is quickly becoming a recognised name in the space already partnering with some of the other biggest companies in crypto.
They have a range of offers currently running, only you can decide if any of those offers are right for you. Nothing in this article should be considered financial advice because it isn't. I'm providing you education. What you do with that information as a responsible adult is up to you.

The day you stop learning is the day you start dying.